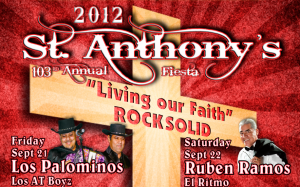 The smell of Mexican food cooking, a cool September breeze, and the steady, bass rhythm, beckoning you to the dance floor – it must be time for St. Anthony's Fiesta.  Celebrating its 103rd year, the festival draws enthusiastic crowds from all over Central Texas.
This year's featured entertainers are Los Palominos, and Los AT Boyz on Friday Night, September 21st and Ruben Ramos and El Ritmo, on Saturday night, September 22nd.  The music is outdoors and the dance floor accommodates a large appreciative crowd.
The environment is family friendly, with face painting, a photo booth, coin toss, putt putt golf, a book walk, cake walk, dart throw, and the ever popular basketball throw.  Adults will enjoy the wine waltz.
If it gets hot, head into the church hall for air conditioning, dinner by the Guadalupanas, and the silent auction.
Schedule
Friday, September 21, 2012, the grounds open at 6pm and the band winds down at midnight6pm  Ground Open, Zamarripa's Mobile DJ
6:30pm Opening Ceremony – Father Juan Carlos, Mayor Lucy Johnson, Flag Ceremony, Queen Candidate Introduction
7pm       Zamarripa's Mobile DJ
8pm AT Boyz perform
9:30pm Los Palominos
10:30pm Zamarripa's Mobile DJ
11:00pm Los Palominos
12 midnight Grounds Close
Saturday, September 22, 2012, the festival starts at 4pm and ends at midnight.
1pm Washer Tournament (noon registration) (festival booths start at 4pm)
4pm Jimmy's Jambox
5:30pm Queen Coronation, Queen Candidates Alondra Saide Ordonez and Gina Trevethan
6:00pm Teen Dance
6:30pm Jimmy's Jambox
8:00pm El Ritmo
9:00pm Ruben Ramos
10:00pm Jimmy's Jambox
10:30pm Ruben Ramos
12:00 midnight Raffle and grounds close
Limited parking is available at the Church ground at 801 North Burleson, Kyle, TX.  A free shuttle is available from Kyle Elementary, 500 W. Blanco, to the Festival.

Fiesta Raffle Prizes – Tickets are $2 or 3 for $5.
| | |
| --- | --- |
| Grand Prize | $5,000 Visa Gift Card |
| 1st Prize | $3,000 Visa Gift Card |
| 2nd Prize | $1,000 Visa Gift Card |
| 3rd Prize | $500 Wal-Mart Gift Card |
| 4th Prize | $500 Home Depot Gift Card |
| 5th Prize | $500 HEB Gift Card |
| 6th Prize | $500 Lowes Gift Card |
| 7th Prize | $250 Visa Gift Card |
| 8th Prize | $250 Best Buy Gift Card |
| 9th Prize | $250 Visa Gift Card |
| 10th Prize | $250 Best Buy Gift Card |