Santa makes a special visit to Kyle every year because the children of Kyle are not just good……they are GREAT!
This year, Santa comes to take part in the Tree Lighting event in downtown, December 2, 2015. Join Santa and the Kyle Parks and Recreation Department at City Square Park for pictures, choirs, food and fun!
Santa will be available to take pictures – BYOC ( bring your own camera).
Date: December 2, 2015
Time: 4:30 – 9:00 pm
Location: City Square Park/Historic Kyle City Hall (Pictures with Santa*)
Schedule of Events
3:00 pm – Santa tours Kyle with Kyle Fire Department
4:30 pm – Santa arrives at Historic Kyle City Hall
4:45 pm – *School choir performances begin at the Gazebo (Detailed schedule below)
– Pictures with Santa begin. (Bring your own camera, there will not be a photographer available to take pictures for you)
5:45 pm – Pictures with Santa will be stopped to prepare Santa for the Tree Lighting Ceremony
5:55 pm – Santa helps the Mayor flip the switch on the City Tree located at City Square Park
6:00 pm – School choir performances continue
– *Santa gets a 10 minute break
7:45 pm – Line for Santa closes
8:20 pm – Final Choir Performance Begins
8:30 pm – Pictures with Santa concludes
8:42 pm – Last choir takes the stage
8:45 pm – Santa must return to North Pole
9:00 pm – Event concludes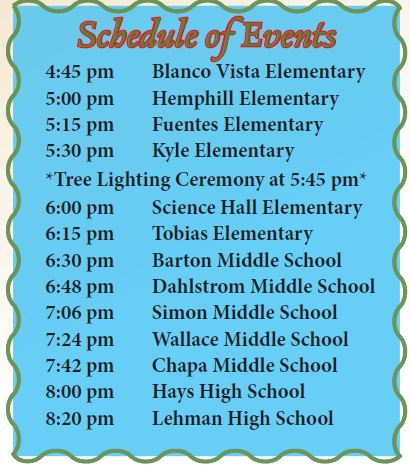 * Hays CISD School Choir Schedule
4:45 pm Blanco Vista Elementary
5:00 pm Hemphill Elementary
5:15 pm Fuentes Elementary
5:30 pm Kyle Elementary
Tree Lighting Ceremony at 5:45 pm
6:00 pm Science Hall
6:15 pm Tobias Elementary
6:30 pm Barton Middle School
6:48 pm Dahlstrom Middle School
7:06 pm Simon Middle School
7:24 pm Wallace Middle School
7:42 pm Chapa Middle School
8:00 pm Hays High School
8:20 pm Lehman High School