One of the most important road meetings of the year is happening this Monday, March 9, 2015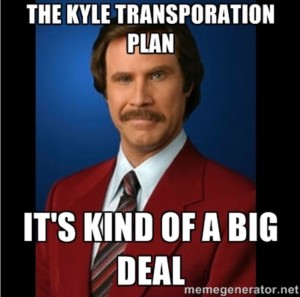 Kyle is going to revise its Master Transportation Plan. A transportation plan has the following objectives.
•Study the current transportation system.
•Project the impacts of Kyle's growth on the transportation system.
•Determine improvements to the transportation system.
•Develop an implementation plan.
In the words of Will Ferrell from the Anchorman movie, it's kind of a big deal.
At the meeting you will be able to learn about transportation planning, help set goals and priorities and mark up maps with your ideas!
In addition to the discussion about the transportation plan, the five road bond consultants will be on hand to answer questions you might have regarding the five road bond projects.
•Bunton Creek
•Goforth
•Lehman
•Burleson
•Marketplace
By the way, the city has told me that plans for the Bunton Creek Roadway project are 90% complete and the Right of Way process started late last month, February 2015.
Read more about the Master Transportation project at KyleConnect.com
Another community meeting will take place in August 2015 and a final wrap-up public meeting will be held in November 2015.
The city's consultant will present a plan to the Kyle City Council in December 2015.
The Meeting will take place at the Kyle Library located at 550 Scott St. Kyle, TX 78640, Monday, March 9th, starting at 7 p.m.
Meeting Agenda
Part 1 – Introductions and Priorities
Scott Sellers, City Manager
Leon Barba, City Engineer (KTMP Manager)
Project Team staff
Part 2 – "Transportation Planning 101"
Purpose of a Transportation Plan
Plan Elements
o Corridor Network
o Typical Sections (including Complete Streets)
o Cost Estimates, Funding Sources, and Schedule
o Coordination with Other Plans / Programs
§ Economic Development
§ Land Use / Zoning
§ Utility and other Infrastructure
o History in Kyle – 2005 and 2010 plans
Part 3 – Moving Forward
Current KTMP Scope of Work
o Process and Deliverables
o Planned KTMP Public / Stakeholder Involvement
Funding – What to pay for, when, and with what money?
Policy Direction and Council Desires
Part 4 – Current Road Bond Projects
Part 5 – Goal Setting and Map Exercise with Council and Citizens