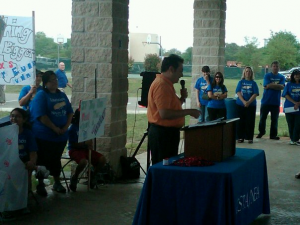 Save Our Schools Teacher Rally: MyFoxAUSTIN.com
Today, a large group of Hays County Residents gathered in support of public education in Kyle. The Day of Action Public School Rally was a family fun event with speakers, food, bounce houses and face painting.
U.S. Congressman Lloyd Doggett headlined the event. Doggett urged Governor Perry to accept the $830 Million the federal government has pledged to Texas schools.
"We offered a very simple amendment. We offered a string on federal education aid to Texas and it's a very simple string. It says if we give federal aid for education, it ought to be used for education," said Doggett.
Acceptance of the federal money would mean over a half million dollars for Hays CISD.
Several school board members attended the rally. Margie Villapondo, San Marcos ISD, and John Adams, Dripping Springs ISD spoke to the excited crowd of parents, teachers, students and taxpayers.
Willie Tenorio, Hays CISD Board of Trustees, said "If we expect our students to work harder, we must expect our representatives to work harder to find the money to fully fund public education, and provide the support our students need to excel."
Merideth Keller, Hays CISD District 4 trustee, and incoming trustee Sandra Bryant also attended the event.
The rally was sponsored by the Texas State Teacher's Association and organized and hosted by the Hays CISD chapter. The local presidents of the Hays CISD, Dripping Springs and San Marcos chapters spoke at the rally.